When my family hosts a daawat, I imagine a gathering of my immediate and extended family. The "d" in daawat sounds like the "th" in the word brother. It's pronounced DAH-wuth. In my search results, the correct and more enticing definition appears. Daawat as a noun translates to a feast. As a verb, it means to feast. The food was, indeed, the highlight of the get-together. When presented all at once on a table, I certainly feasted with my eyes before I tasted with my tongue.
Usually these daawats are served buffet-style, with the exception of dessert and tea. What do I get and where do I start? Here's a video of one of the appetizing food tables. Note: there is no audio.
Prior to each Ramadan, my mom painstakingly prepares and freezes samosay and spring rolls crafted with rice paper. Somehow, not all were eaten during the month of fasting, so this was an opportune occasion to fry them. In the GIFs below, my dad flips over a spring roll in a pool of canola oil. They gotta be golden to be good, because I crave their crunch.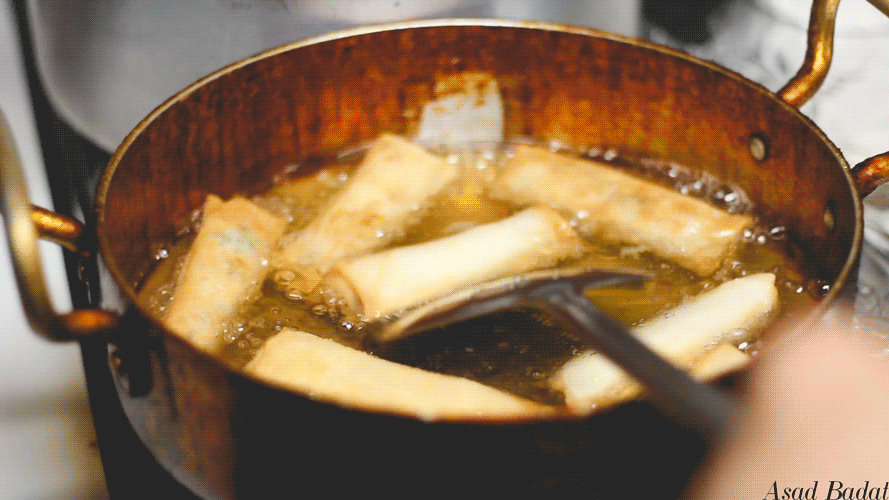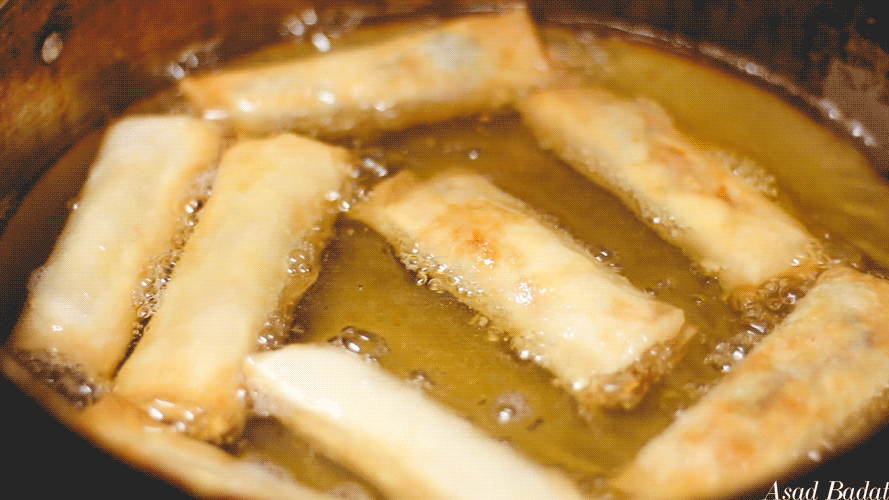 The remaining desserts were my favorite. Here's my uncle holding a bowl of custard topped with an airy whipped cream. Among the fruits inside are grapes hiding with dessert cake shells and halal Jello—yes, that's a thing. The calorie count is off the charts, but who's really counting?
Before this post, I never knew the correct spelling of the dessert above. It's a type of shortbread biscuit that's popular in India and Pakistan called nankhatai, pronounced NAHN-kuh-thigh. My mom has always topped them with crushed pistachios. If you're not careful, you'll get crumbs all over you. Everyone else's nankhatai that I have eaten tastes burnt or isn't sweet enough, so I like my mom's the best.
This flan's handsome disk-shape possessed an unexpected architectural quality. The topside caramel was delicious, and watching it being sliced was therapeutic.
My sisters made their classic chocolate-covered strawberries. In Dora The Explorer's voice: Delicioso!
I hope your phone didn't catch fire trying to load these GIFs, or that their constant movement didn't cause you dizziness. Is there something you are particularly curious about or enjoyed in this post? Let me know in the comments below!
Until next time,
Asad
P.S. If you're interested in more posts written by me about Food, check out these below: